Page 1 Page 2 Page 3 Page 4 Page 5
REILEY: John and Sandy; Palm Bay, FL
Back in February and March, 2006, I was on petfinder.com and found Reiley's North Carolina listing. The picture and bio told me this little guy was for us. He was a little over a year old and his owners had given him up to an Asheville shelter because he was wild. He was in one of Bonnie's foster homes in Charlotte and his major problems were lack of first year training and constant problems keeping his crate clean when left unattended, so off he went to "bootcamp". His trainer, Denise, put him on the right track. In April my wife and I were driving from Florida to Pennsylvania for a week so I called Bonnie from the Setter Rescue and told her we wanted to meet Reiley. We were ready to deal with his issues and his routine car sickness. We pulled into Denise's driveway. She had him on a lead and right away I knew he was ours. Sandy got his lead and started walking him around while I talked to Denise. This whole time, all he did was look at shadows and birds. Sandy talked to him but he didn't pay much attention to her. We were there for about an hour or so. When it was time to go, Sandy and I were by the car and I was talking to Reiley and he leaned right against Sandy's leg. We knew he liked us. We told Denise we wanted him but were going to pick him up on our way back home the next weekend. The next Sunday we pulled into the driveway and Denise and Reiley came out. We opened the door and he jumped right in the backseat! He put his head on Sandy's shoulder and thirty minutes later we were gone. The whole way home he was so good. He was great on a lead. He never got sick and had his head right between the seats. It was just great. He loves Wendy's french fries and burgers. When we got home early the next morning he met Sage and Jake, our old Setter. Reiley was the first one to get to our bed. He put his head on the pillow and it was just like he was ours all along. He still chases shadows and lights and everyday he makes us laugh. He is always there waiting for me when I get home. And he was there for Jake, lying next to him, when we recently had to put Jake down at thirteen years of age. He loves to go for rides in the truck and loves going to PetsMart. He is non-stop all day long playing with Sage. We run three miles a day and he loves it. We are so glad he is part of our family.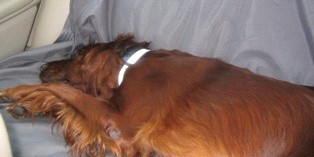 RUSSELL: Stephanie; Austin, TX
Hi Carolyn, Russell's great. We completed school and he got a certificate. He knows sit, stop, and we are working on stay and come. I'm attaching some pics of him. The first is him sleeping in my car as we drive from one store to another. He now just conks out and really gets a good nap in on the way to the next place. He does great in PetsMart and Home Depot and really well in my store as all clerks are allowed to give him as many treats as they want to. The last shots are of him downstairs which is where he prefers. I think because it is cooler. He is eating his dinner and loves the bike rides we go on so he can rrruunn. He loves to do that. Hope you are doing well - you trained him really well.
(Russell is 8 years young, and had lived his entire life as an outside dog before coming into our Rescue. We think Russell has hit the jackpot in his life with Stephanie!)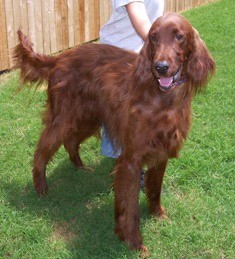 SHAUGHN: Patti and Jason; Dade City, FL
My name was originally Copper. I was purchased as a puppy by a nice lady in Arkansas. When I was four years old she hurt her back and couldn't keep up with me. Some nice people named John and Irene from Tulsa came and picked me up. Eventually I took an airplane ride to my new humans in Florida, Jason and Patti. I also have a big brother and a little sister who I get along great with. When I first arrived, everyone was very sad because they recently lost their dog Cassie. I did my best to cheer them up by making funny faces and doing crazy antics. I also demanded that they get out and play fetch with me! When they saw what an athlete I was, they started taking me on long runs and taught me how to catch frisbees. From there, I've learned agility and dock diving off the sea wall and also into the neighbor's pool, sometimes without their permission! Shortly after arriving at my new home, my humans found out that I was fascinated by running water, so I learned to brush my teeth every night at the bathroom sink. They also discovered that one of my favorite pass-times is hanging out with the guys at bonfires and enjoying a cold frothy beer! So everyone decided I deserved an Irish name to go along with my Irish habits. My new name is Shaughn. I love my new home and have made friends with everyone in the neighborhood, human and non-human. Thank you Magnolia Setter Rescue for giving me the home I always dreamed and hoped for. Love, Shaughn
SWEETPEA: Diane; FL
This is Sweetpea with her twin sister, Sassy, and their wonderful foster mom, Sam Scarfo. Aren't they the cutest little girls in the world?! Both puppies had been neglected, underfed and left in a crate with three other siblings for months, with little human contact until they were rescued by Magnolia Setter Rescue. Foster parents Sam and Henry began the process of nurturing, loving and caring for these two little ones until they became strong and healthy enough to be placed with a forever family. That's me holding Sweetpea on my lap.
I decided to become Sweetpea's adoptive Mom the first time I laid eyes on these two little darlings. Sam and Henry live across the street from me and my husband Frank. Sam and Henry have their own adopted English Setters, Sierra and Sugar. Sweetpea's placement with her foster parents has been wonderful for her; partly because she can still visit her foster sisters, Aunt Sam and Uncle Henry; and still romp and play in their backyard - always maintaining a connection with the family who rescued her! Here she is with Sierra, Sugar and Uncle Henry, and getting snuggles from Aunt Sam.
Sweetpea's adoption into our home turned out to be an amazing and wonderful blessing for my family – one that we had no idea would unfold as a result of bringing her home to be our own. Instead of rescuing Sweetpea, she actually rescued us!! It turned out that we were entering a time of great loss and grief in our family, and Sweetpea arrived just in time to bring a sparkle and enough joy that would be needed to help us through. Our little cocker spaniel, Maggie, was 13 years old and coming to the end of her time with us before crossing the Rainbow Bridge to run free and be the happy, healthy dog she was meant to be. Maggie was dealing with blindness, arthritis and deafness when we decided to bring Sweetpea home as a new addition to our family. Maggie was patient with this new active little sister and she obviously yearned to interact with her even though she couldn't see her or move well enough to play!
Soon after Sweetpea came to live with us my Dad had a fatal stroke that left him with only days to live. The last picture I took of my parents together was of them enjoying this new little member of our family. Sweetpea made Dad laugh whenever they were together! Here's Sweetpea with her grandparents, and that's Maggie peeking out from under the pillow.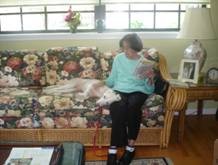 After Dad's stroke, he came home with hospice, passing away on December 16, 2006 after six days of home care. During this entire time Sweetpea and Maggie helped us keep vigil. They both camped out on a little sofa next to Grandpa where they stayed with each other, somehow knowing their presence was a comfort to Dad.
Two weeks after my Dad died, we had to say goodbye for the last time to our little Maggie. Sweetpea became our comfort and focus during another very difficult time. Mother came to live with us and Sweetpea provided the love and distraction she needed to cope with her loss of Dad and her new living arrangements - at age 90 and dealing with Alzheimer's, the one constant that she relates to everyday is Sweetpea. The first thing mother looks for each day – before breakfast – is searching for the puppy! They have become like our two little children.
Four months after my Dad passed away, Frank's father died from a short illness with cancer. Again Sweetpea provided the distraction and love we needed from her affectionate personality and constant willingness to bring us a toy to play. I truly think there was a divine plan for Sweetpea to be discovered just across the street at just the right time to become our little shining star in the midst of some dark moments.
Sweetpea is 15 months old now and almost all grown up. She's a beautiful puppy and everyone stops to talk with her because she is so cute and stands out with her snow and spotted coat. She is still shy around new people, but making progress with strangers in her Basic Behavior classes. She loves to meet new dogs and is ready to play at all times!
Our family is thankful to all who have participated in rescuing our Sweetpea and giving her the love and attention she so richly deserved!! She has a great smile and is as bright as she looks! Here are a few "happy ending" photos of our lovely Llewellyn Setter and adored Sweetpea!!